Please double check what's open before your trip and follow all local mask guidelines to keep yourself and others safe! Also, ads are how we pay our bills and keep our blog free for you to enjoy. We also use affiliate links; if you make a purchase through them, we may receive a small commission at no cost to you.
As a blogger who attributes most of my early success to Pinterest, I'm often asked about how to replicate the 20k monthly traffic from Pinterest that I achieved in my first 6 months of blogging.
One of the first questions I'm asked is usually about followers: how do I have so many followers on Pinterest (33k as of this post)? Do I have access to some magical Pinterest follower growing machine? Did I just buy my followers (looking at you, shady Instagrammers)??! What the heck is my secret? Well, the answer might surprise you.
But before I tell you the secret of my 33k followers on Pinterest, I'm going to tell you exactly how to grow your followers. Here are my favorite tips for getting more followers on Pinterest.
2023 Travel Tip:
These days things can change quickly, so as soon as you buy your tickets, make sure to buy
travel insurance
in case you need to unexpectedly delay, cancel, or extend your trip. We use
WorldNomads
and
SafetyWing
. For more details, head to our
travel insurance guide!
To help you up your Pinterest game, I've also created a handy printable worksheet to help you makeover your Pinterest profile! And to help you implement each of the 5 steps, I'll pop into your inbox each day to walk you through it (and cheer you on)! Sign up below:
---
How to Grow your Followers on Pinterest
Ok, here's the deal, and you're going to love how straightforward this is:
The more people you follow in Pinterest, the more people will follow you back.
That's it! End of post. Everyone can go home now!
… Although, I do have a whole bunch of other tips to share if you want to stick around!
For starters: you might be wondering whether you should limit the number of people you follow on Pinterest in the hopes that they'll follow you back. And the answer is, no – go wild!
There is really no downside to following a ton of people – that kind of numbers game isn't nearly so important on Pinterest as it is elsewhere. Following more people on Pinterest than follow you back? Don't worry about it. Nobody will notice or care, and it won't hurt you at all.
That said, Pinterest's following limits are much higher than Instagram's, but they do exist. When I'm looking to grow my followers, I typically follow 100 or so people at once in mass follow sprees.
But you want to make sure you're not just following people willy-nilly – you want to follow people who will follow you back, and more importantly, engage with your content to drive exposure and traffic to your blog (here's a refresher on why exposure is crucial to Pinterest success).
I like to look for people to follow on Pinterest who seem like they might be interested in my content, based on my knowledge of my typical reader and some snap second judgment calls based on their profile pictures and titles. There's a good chance that if you've got a cute picture of yourself and the word "Wanderlust" somewhere in your Pinterest title that I'm already following you. Oof, that sounded creepy. It's STRATEGY YOU GUYS, not stalking. STRATEGY.
Anyway, if we're all on board with judging people based on their Pinterest profile photo/title (see, I told you those were important), here are my favorite strategies for growing your followers on Pinterest.
Follow Other People in Your Niche
Start out by following a bunch of people who share your niche. Are you a travel blogger? Follow a bunch of travel bloggers. Food blogger? You guessed it – follow every food blogger you can find! Do you make jewelry and sell it on Etsy (aww, I used to do that!)? Go find anyone and everyone who is sharing content about your kind of jewelry and follow them like crazy!
Of course, it sounds so easy. But you're probably wondering "how the heck do I FIND those people?"
Well, Pinterest is a search engine. So, when in doubt, try the search bar.
If your niche was donuts (I'm so jealous, can we switch niches?!) you'd follow all of these Pinterest profiles.
Yes, ESPECIALLY Mr. Bedroom Eyes McDonutEater over there. Heck, I followed him and I'm not even in the donut niche (yet).
Pay attention to that little drop-down to the right of the search bar: you can set that to People to search for profiles to follow. It's also super handy when you're looking for boards to follow, which will come in handy for the next method.
Find Pinterest Users Through Boards
Boards are the primary way that people organize their content and interests. So if you find a board in your niche, that means that everyone following that board is interested in your niche too. It's like a treasure trove of potential followers!
Best of all, it's SUPER QUICK to follow about a zillion people at once with this method. You'll just navigate into a board (group board, non-group board, whatevs) and click on the text at the top that tells you how many followers they have.
And, like magic, this little window will pop up, full of that magical red "follow" button: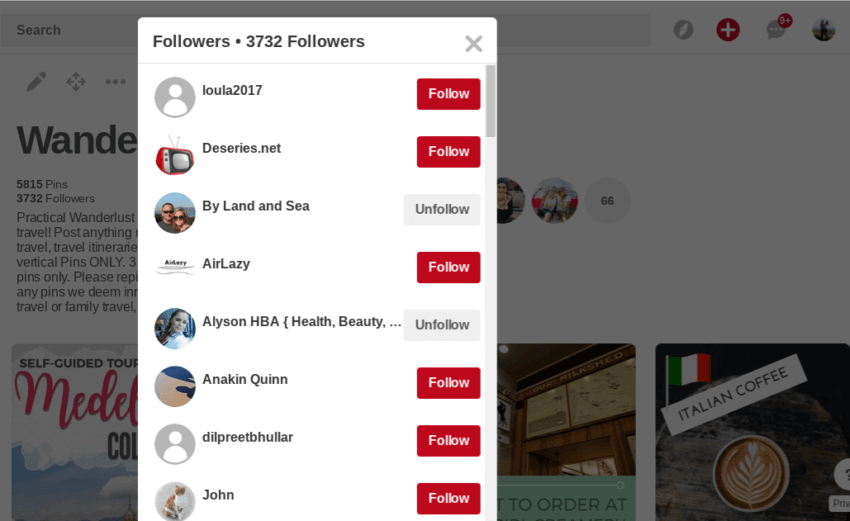 Follow everyone that looks promising. Wheee! It's a follow-palooza! You guys, get it? Like Lollapalooza. You guys? …. Get it??
After you've exhausted the search method and the board method, there remains only one more tried and true strategy for growing your followers on Pinterest ….
Stalk Your Competition & Poach Their Followers
Ok, that came out a lot more aggressively than I meant it to.
But follow my logic: if someone else has a business/blog/brand that's similar to yours, then it's likely that their followers are probably going to be interested in your business/blog/brand too, right?
Let's call it "teamwork" instead of "stalking and poaching," maybe. But rest assured, everyone's doin' it. So hop on the bandwagon and just do it.
Here's a tip: if you have your competition/frenemy's Pinterest username memorized, you can just type it in as a URL like this: https://www.pinterest.com/FRENEMY/followers/
Using the Follow/Unfollow Method on Pinterest
After a few days, you've probably followed several hundred new people and many of them have probably already followed you back. Now you might wonder, "so like, should I go unfollow the ones who didn't follow me back?"
Well, sure, you can. But not necessarily for the reason you might think.
When I follow a bunch of potential readers in my niche – personal Pinterest profiles with a variety of boards about things like interior design and cute dogs and funny memes and all the things my personal Pinterest profile has too but my travel blogger Pinterest account does not – Pinterest thinks I want to see those kinds of topics on my front page.
And then I have to go searching for high quality content because suddenly there's a bunch of funny cute dog memes on my front page instead of high quality travel content.
Which like, great, but I'm easily distracted and constantly short on time, so funny cute dog memes aren't actually helpful in this one, very specific scenario. Like this is me trying to get my Pinterest strategy on:
And this is me when all I see on my front page are recipes, decor inspiration, makeup tips, and cute pictures of animals and I get caught in an obsessive Pinterest spiral for the next 8 hours instead of getting actual work done:
Do you see what I mean? It's a problem.
Like how much time do you think I just wasted looking at cute dog memes on Pinterest trying to find one that would fit in this post?! Answer: it's too embarrassing for me to share. I have a problem, you guys.
So, a few weeks after a Pinterest Follow spree I go back and unfollow anyone that I followed who isn't a travel blogger.
Yep, it's the old ugly follow/unfollow game that everyone hates on Instagram.
Except there is one key difference: I'm not unfollowing to keep my numbers down, I'm unfollowing to preserve the integrity and usefulness of my front page.
So, I unfollow any non-niche Pinterest profiles that I followed, whether or not they've followed me back.
As a personal Pinterest user, I could care less whether someone is following me or not, because I use Pinterest for my own benefit, like to cute dog GIFs. Most Pinterest users don't take unfollowing personally (or, frankly, even notice at all).
How do I unfollow people on Pinterest? There are a few ways.
There's a super complicated unfollow method involving Excel spreadsheets: here's a step by step guide.
Or, you can do what I do and just do it manually, by clicking onto your profile and navigate to your followers (or type "https://www.pinterest.com/YOUR PINTEREST USERNAME/following/" into the address bar) and manually click into each profile that you want to unfollow.
Yes, it takes some time. So honestly? If you aren't getting non-niche content on your front page, you really don't need to worry about unfollowing on Pinterest.
How Much Time Should I Spend Growing My Followers on Pinterest?
Thankfully for impatient/lazy people like me, it takes way less time to build followers on Pinterest than it does on other social media platforms.
If you spend just a few minutes per day working on gaining followers, you'll find that your followers continue to grow organically, and you can pretty much forget about chasing followers and focus your time and energy on other things, such as crying over your Instagram account (please follow me, please. Please.).
When I was first starting out on Pinterest, I went on a 20-minute follow-spree every few days.
And then every few weeks.
And then every few months.
At this point, I can't remember the last time I did one. And yet, my followers have been growing steadily for years:
I grew from 3,305 followers on February 2, 2017 to 8,190 on September 1 (just before I first published this post). That's nearly 5k followers in 6 months, or nearly a 150% growth increase.
Now, in 2021, I have over 33,000 followers on Pinterest – and I honestly don't spend much time on Pinterest anymore.
So, what gives? I must be some kind of Pinterest genius … right??!!
I mean … I'll take the compliment, but growing followers on Pinterest is not rocket science. Even if you're not going on regular mass follow sprees, just using Pinterest regularly will grow your followers organically.
Yea. I just mean like … pinning stuff. Following a board now and then. Clicking on things. Everything that the almighty Pinterest Algorithm deems as "engagement" (here's a refresher, if you need one).
Doing those things attracts new followers like bees to honey. Only the bees are potential readers of your blog or customers of your business, and the honey is sweet, sweet dog memes content.
Case in point: I once saw someone selling a Pinterest course advertising a 700 follower growth in 1 month. Not bad, right?
But she'd only been using Pinterest for a month, period. Aside from being wildly unqualified to sell a whole course on Pinterest, she totally proved my point: anyone can achieve massive follower growth on Pinterest in a small period of time.
If you're just using Pinterest every day doing regular Pinterest stuff, you'll notice your followers just grow on their own… And grow, and grow, and grow.
Which leads me to my final point: followers just don't matter as much on Pinterest as you probably think they do.
Do Followers on Pinterest Matter?
Unlike Instagram or other social media networks, followers aren't the primary key to success on Pinterest. But that doesn't mean they don't matter at all!
You'll want to grow your Pinterest followers because your followers are more likely to see your content on their front pages and engage with it.
But having high followers DOESN'T automagically mean you'll have great traffic coming your way, too.
I hit nearly 20k monthly sessions from Pinterest when I only had 2k followers on Pinterest, way back in January:
Meanwhile, I've taken on Consultation Clients who have WAY more Pinterest followers than I do … and almost no traffic to show for it.
There isn't a direct correlation between the number of followers you have on Pinterest, and the amount of traffic you'll be able to drive to your blog/brand/business with Pinterest.
Still, having engaged followers helps with exposure, and exposure helps with traffic, so you want to spend a small amount of time growing your followers.
If you're just starting out, on Pinterest getting to at least 1k followers is a good goal. Once you hit 1k followers, you just want to make sure your followers are continuing to grow regularly on their own, and otherwise …. don't sweat it too much.
Why is 1k the magic number? Honestly, it's a little arbitrary. I find that it's mostly for social proof – once you have over 1k followers, other potential followers seem to assume your content is pretty good just based on the number of followers you already have, like a snowball effect.
Reaching 1k followers is also helpful so that you can get approved for really good Group Boards, which can help you share your content on Pinterest to a much larger audience.
Stressing about followers on Pinterest is one of those Pinterest Mistakes that most people are making. Oh hey, we have a whole post on Pinterest Mistakes you're probably making! How convenient.
---
Hopefully, I've given you some good strategies for growing your followers on Pinterest, and also helped soothe your anxiety about using them. I wanted to write a post called "how to grow your followers on Pinterest" that just said "don't bother" with a link to this Shakira video, but Jeremy said no.
If you use these tips for 20 minutes a day every few days until you reach 1k followers on Pinterest, you'll be golden!
To help you up your Pinterest game, I've also created a handy printable worksheet to help you makeover your Pinterest profile! And to help you implement each of the 5 steps, I'll pop into your inbox each day to walk you through it (and cheer you on)! Sign up below:
Do you have questions about growing your followers on Pinterest? Ask away in the comments!
Oh and hey… since this post is about Pinterest, how about sharing it? Click the Pin It button for a full sized version.