Please double check what's open before your trip and follow all local mask guidelines to keep yourself and others safe! Also, ads are how we pay our bills and keep our blog free for you to enjoy. We also use affiliate links; if you make a purchase through them, we may receive a small commission at no cost to you.
Airbnb is one of those luxuries in life that we take for granted in today's age of car-sharing and home-sharing and the sharing-economy and things that start with the word sharing but actually involve an exchange of money and people's actual stuff.
We take it for granted that anywhere we go, we'll be able to just pay someone to sleep in their home, with all of the comforts that you'd expect from a house rather than a hotel: a couch, a kitchen, freedom from having to awkwardly interact with anyone at all…
So when we attempted to log into our beloved, trusty Airbnb account one day only to find that our password didn't work and the email on the account had been changed, our entire worlds were rocked. Had we lost our entire Airbnb account?! 5 years worth of reviews?!?! Our "saved" lists?!
Then it hit us: our credit cards are all saved in my account! Cue panic.
Our Airbnb, along with our saved credit card information and – oh my god, didn't I have to upload a drivers license at some point too?! – a bunch of other personal information was totally vulnerable to the sticky claws of some evil tech genius. My Airbnb was HACKED!
Before we dive into why we no longer recommend Airbnb, let us regale you with the full story of our Airbnb disaster, drama and all.
2023 Travel Tip:
These days things can change quickly, so as soon as you buy your tickets, make sure to buy
travel insurance
in case you need to unexpectedly delay, cancel, or extend your trip. We use
WorldNomads
and
SafetyWing
. For more details, head to our
travel insurance guide!
My Airbnb Account was Hacked??
Is my Airbnb account hacked, or did we drunk-book?
The first hint that something might be amiss was an email from Airbnb… in Chinese.
It was a reminder to rate our last AirBnB stay, I think. This took some deductive reasoning because the entire email was entirely in Chinese. Why did Airbnb think we wanted to receive an email in Chinese?
Before jumping to the conclusion that my account had been hacked, we did a little bit of soul-searching. Was there the tiniest, most remote possibility that we'd somehow booked a trip to China on Airbnb and then, like, forgotten about it?
Drunk Airbnb-ing, much like drunk shopping, is one of those things that feels like a lot of fun in the moment and a whole lot of expensive regret the day after. But neither of us remembered any kind of AirBnB sprees in China. We'd never been to China. We'd never even considered going to China. Nor do either of us speak Chinese. There wasn't any reason to be receiving emails from Airbnb in Chinese.
When we went to log into my account and figure out why we were suddenly receiving emails in Chinese, we couldn't log in. Our password didn't work. Neither did our email. And what's even more strange, when we entered in our email, AirBnB's login page would change it to some weird email address that we didn't recognize.
That's when it hit us: had our account been hacked?
Contacting Airbnb Customer Service
Our first instinct was to send Airbnb a strongly worded, panicky email. So we mustered up our courage and sent an email like:
"um, excuse me, sorry to bother you, but could you please help us to understand this email? From China? Which we're not? Ok, thanks!"
Yeah, rightful indignation isn't exactly our strong suit. I guess we were still half hoping that it was all just some kind of mistake with a reasonable explanation that could be helpfully and quickly sorted out.
How wrong we were.
Shortly after our way-too-polite email, we got an email back from AirBnB like "our automated response system took one look at your pathetic email and deleted it. Try again." Damn you, sassy auto responders. It was clear we were going to have to take this to the next level: the phone.
Ugh. I hate calling people on the phone. It's this whole awkward thing where you have to interact with people and it's just my least favorite.
But you know what? I pulled on my grown-up pants and practiced my phone voice and Googled for a good hour to figure out the right number to call, like a real f***king boss.
Airbnb Customer Service Didn't Care that My Account was Hacked
So we call Airbnb and politely explain what's going on. And they're like, super friendly, but also they can't do anything to help us at this time. They'll pass our information onto the correct department, who will get back to us very soon, oh and is there anything else that we needed help with today?
Like … no, just that one thing that you didn't help with at all, but thanks, I guess.
For some reason, I accepted this response, and we cheerfully hung up the phone thinking things would get resolved shortly. And then we waited.
And waited.
And waited.
Day 2: Airbnb Customer Service STILL didn't care that my account was hacked
After 24 hours passed, I was less confident in Airbnb's "helping customers who have had their accounts hacked" team.
Did they just not care that my account was in the hands of nefarious Chinese supervillains?!
I willed myself to call Airbnb again (or, more accurately, I got my husband to do it for me #thanksbae).
Our second phone call was much the same as the first: "Sorry, I'm totally incapable of doing absolutely anything to help you or anyone else, but someone on our payroll is probably in charge of this, so I'll pass your information along in a series of forwarded emails until the correct person magically finds your information and solves all of your problems."
Uhhhhh …. thanks?

"Um.. excuse me … could you just … excuse us … sorry but my account has been hacked … hello?"
At this point, we're peeved. Airbnb is giving us the run-around while we politely twiddle our thumbs. Meanwhile, nefarious Chinese supervillains throw sleepovers in fancy Chinese villas using MY Airbnb account.
Thankfully, we'd checked our credit cards and hadn't noticed any kind of weird activity on them, so at least it seemed like the Chinese supervillains were paying for their schemes on their own dollar (or yen).
Day 3: Why does Airbnb customer service hate me?!
By day 3 of my account being hacked and AirBnB still not doing a thing to help us, I've HAD it. What kind of incompetent, inconsiderate POS organization doesn't give a s**t when their customers – frequent customers for over 5 YEARS, I might add – get their accounts f**king HACKED?!?
We needed a strategy change.
At this point, Ms. Sorrytobotheryou flew out the damn window and was replaced with Ms. Howf**kingdareyou.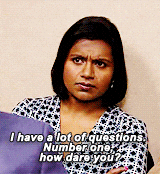 Emails hadn't worked.
Phone calls hadn't worked.
I don't have the "may I speak to your manager" haircut, so instead, I did what any enraged millennial would do: I took the fight to Twitter.
@Airbnb 3 days and counting that my account has been hacked and your company hasn't responded to our requests for assistance. Unnacceptable.

— Practical Wanderlust (@practicalwander)
@AirbnbHelp we've called twice, emailed, DMed, still a security breach at @Airbnb exposes our personal information w/ NO response from you!

— Practical Wanderlust (@practicalwander)
After a few pissed off tweets, AirBnB decided that I was actually worth acknowledging. (I guess good luck if you don't have a Twitter following?!)
I got a canned response asking me to send them the same information I'd already given to 2 different people on the phone, which I let them know, in the huffiest way I could muster via Twitter DM.
Still, I kept getting the same bulls**t response: "I'm so sorry to hear about this, and personally I can't help you, but someone will definitely help you at some point soon, probably."
Words cannot describe how fed up we were at this point. It had been 3 days, 2 phone calls, several angry tweets, and a bunch of huffy Twitter DM's, and still, our hacked Airbnb account was being used by nefarious Chinese supervillains. So we called again. And again. And tweeted. And called.

Anyone know how to get a response from @airbnb or @AirbnbHelp? No responses, no followups, spent an hour on hold. So dissapointed.

— Practical Wanderlust (@practicalwander)
And we kept calling and tweeting …. until someone finally agreed to help us.
Y'all, seriously though. The amount of time it took to get someone on the phone who could read through an instruction manual on un-hacking someone's account was f***king embarrassing. Get your shit together, Airbnb.
Taking Back my Hacked Airbnb Account, Finally
At long last, we were let into my account. Only it didn't look like my account at all. It had been totally changed – all of my old reservations were there, but everything else was different.
Honestly, it was a little bit heartbreaking seeing my beloved Airbnb account used like that. Staring into the duck-face, selfie'd eyes of the teenager who had supposedly hacked my account, I felt like she had punched me in the gut.
As the only useful member of AirBnB's support team walked us through re-claiming my account, we discovered more and more totally foreign information inserted into my account. The perps had changed the email address, phone number, credit card information, and even the language on our Airbnb account.
Remarkably, they hadn't hacked our Airbnb account and used our credit cards to book trips: they'd added their own. Which makes me think that the purpose of the hacking wasn't to legitimately use my account for stays, but more likely to build up "authentic" seeming reviews for some other Airbnb host account.
It scares me to think of what kind of scheme our poor Airbnb account may have been a part of. I have no idea if Airbnb flagged the places that our hacked account "stayed" at as suspicious, but I sure hope so.
At this point, though, I'm not sure how much faith I really have in the investigative powers of AirBnB…
Step by step, we removed Chinese phone numbers, weird sketchy email addresses, awkward teenaged selfies, and credit cards from my account. Our helpful Airbnb customer service representative canceled our upcoming trip to Hangzhou for us.
And like … that was kind of it. That was the end of that. …Right?
HELL no. I wasn't getting off the phone with the only person in the entirety of AirBnB willing to talk to us without making sure that I would never have to do this s**t again.
How to protect your Airbnb account
Our customer service representative couldn't answer any of our questions about how or why our Airbnb account had been hacked. I'm pretty savvy when it comes to phishing scams, and I don't recall clicking on any weird emails or links – nor did I find any suspicious emails from AirBnB in my email account when I searched back.
All I found was a regular stream of emails from Airbnb about upcoming trips and past trips, which all seemed perfectly normal. So … how did this happen?
Honestly, we still don't know. Maybe we did click on an email at some point and it was so well-crafted that we didn't even notice. I'm skeptical, but maybe.
According to Airbnb, there had been no security breaches lately (or at least, they weren't admitting any to us). But when I Googled to see if anyone had experienced something similar, we found the all-too-familiar story of a recently hacked AirBnB account. And AirBnB's response had been just as abysmal.
So we weren't alone, but that wasn't super reassuring, either.
How Airbnb Customer Service Handled my Account's Hacking
During the course of my AirBnB account being hacked and then recovered, AirBnB took no responsibility whatsoever for the hacking event. What's more, beyond a "doesn't seem like your credit card was used" and "your driver's license isn't kept on file," there wasn't a whole lot of concern for the security of my account & our personal information, either.
It was just sort of like "Well, these things happen. It's probably your fault. Sucks, though!"
Oh, and if you're wondering how much apology money AirBnB shelled out to make up for the hacking of an account that has been used regularly for over 5 years: the answer is none.
That's right. Airbnb didn't give us a single apology credit. Not even an apology discount code. Nothing.
Considering that we regularly use Airbnb for bookings in the several-thousands range (3 weeks here, 2 weeks there, a giant cabin for 10 of our friends, that sort of thing) it was kind of insulting.
In fact, this was the first time that I felt that Airbnb hadn't done much of anything to demonstrate that they valued my business.
It kind of hurt. Like when an old friend suddenly ignores your texts. What happened to us, AirBnB?
How to prevent your AirBnB account from getting hacked
Even though Airbnb handled our hacking poorly – actually, poorly is the nice way of saying it- we wanted to protect my account from future hacking.
So after much back & forth and dropping of security buzzwords with our increasingly unhelpful AirBnB customer service representative, we were finally set up with 2-factor authentication to hopefully prevent my account from being hacked (again).
What this means is that whenever we log into our AirBnB account from a new or unrecognized device, AirBnB will send us an email or text to make sure it's us before letting us into the account. In theory, at least. In practice, that doesn't usually happen, and we end up locked out of our accounts until we call Airbnb customer service for yet another miserable, frustrating series of interactions.
This wasn't a solution that was offered to us, either. I had to say the words "2-factor authentication" about 5 times, and then explain what I was talking about, before our customer service associate was like "oh yeah, we can do that, I guess."
I asked if 2-factor authentication was available to all users, and apparently it is … but you can't enable it yourself. Which is idiotic. But it's the only solution or suggestion that AirBnB was able to offer us to prevent future hacking of my account, aside from the somewhat obvious tip to not click on any emails from AirBnB if they seem suspicious.
So, dear readers, if you're concerned about your AirBnB account getting hacked, try calling Airbnb at +1-415-800-5959 or +1-855-424-7262 (toll-free) and ask them to set up 2-factor authentication on your account. But be warned: this will make getting into your account from now on incredibly difficult.
I'm not sure why, but the Airbnb App and the online website don't seem to communicate very well. Every time I log in, I'm asked for my verification code. Only, nothing is ever sent to my phone for me to enter in. I've tried everything I can to fix it, and nothing works. I was even locked out of my account once while staying at an Airbnb, making it impossible to communicate with my host when both the WiFi and cold water were mysteriously not working (terrible Airbnb experience #29769276…).
Calling Airbnb customer service and aggressively tweeting is a whole heck of a lot less convenient than logging into my Airbnb app or account online and sending a message, and two-factor authentication makes it dang near impossible to log into my account.
In fact, I've had such difficulty getting back into my account that I got into the habit of creating a new account each time I need to book an Airbnb.
And then, eventually, I just stopped using Airbnb altogether.
Airbnb Complaints & Issues
This wasn't the first time we've had Airbnb complaints. If you stay at enough Airbnbs, eventually you'll find yourself in need of their help.
We were once kicked out of an Airbnb in the middle of a trip because the landlord had rented out the unit to a full-time tenant.
There was the time an Airbnb host screamed at us on Christmas morning and accused us of ruining his couch (read that story in its entirety).
We've shown up to several properties only to find them uninhabited, dirty, disgusting, poorly advertised, or just plain dangerous. One time that we showed up at a booking close to us in Northern California advertised as a "treehouse," only to immediately turn around and leave because it was actually just a stretcher hanging from a tree, complete with a rock-climbing harness for "safety."
In France, our Airbnb door was so rotted through that someone broke into it while we were out one day.
In Barcelona, our Airbnb host told us not to answer the door for anyone – and to lie and say we were related in case the police showed up. That was the first time we realized that Airbnbs aren't always actually legal, and that we needed to do more research before booking an Airbnb – which raised some pretty big ethical travel red flags.
We've since discovered that in many destinations, Airbnb is not only entirely illegal and actively fighting against local governments, but it's destroying local economies and communities, too. Airbnb's negative effect on local communities is similar to gentrification, pushing out local residents and would-be tenants from their own communities.
Then there are the Airbnb bait & switch scams, the ever-rising "guest fees" which make finding an actually affordable place to stay nearly impossible, and of course, Airbnb's awful customer service.
My own mother, an Airbnb host who rents out a private room in her home, stopped hosting on Airbnb after someone started running an illegal sex operation out of her basement. Yes, seriously, and yes, I was horrified (she's fine, and likes to joke that "at least they brought their own mattress!") Customer service didn't help her much, either.
After years of making excuses and turning a blind eye to Airbnb's issues, we've had it. We no longer use Airbnb ourselves, nor recommend it to our readers. Instead, we've found a handful of other sites that offer similar services – with fewer problems.
The Best Airbnb Competitors for Travelers
VRBO: Short for "Vacation Rental by Owner," Airbnb's primary competitor is our favorite go-to for renting short-term vacation rentals. All of VRBO's listings are entire homes, and most of them are professionally managed. You'll find plenty of unique, quirky, beautiful properties in residential areas – but fewer than you would find on Airbnb, since VRBO is a little pickier about their listings (which we deeply appreciate). The site is easy to use and similar to Airbnb: you can search without dates, browse by map, filter results with a ton of specific attributes, and read guest reviews. Cancellation policies are often flexible, and you can contact owners with questions before bookings.
Turnkey: Turnkey is a vacation management company that works with homeowners to manage their vacation rentals. You've probably seen their listings on Airbnb or VRBO, and that's where we first heard of them: many of our favorite cabin rentals in Lake Tahoe are managed by Turnkey! Because they're a professional property management company, you can expect good communication, clear expectations and rules, standardized cleaning, and someone to contact for immediate help when you need it. Plus, booking with them directly saves you some listing fees: their Best Price Guarentee promises property rates up to 15% off the same listing on other sites!
Tentrr: Tentrr lets private landowners share their land, and it's our go-to for finding unique glamping and camping sites on unique properties. You can rent campsites and bring your own gear, or you can go glamping in a California vineyard or panning for gold in a cabin on a Montana ranch!
Trusted Housesitters: We've used Trusted Housesitters for years as both hosts & guests! Unlike traditional vacation rentals, with Trusted Housesitters you're actually staying in someone's home while they're away and watching their plants, pets, and house. In exchange, your stay is totally free (you and the host both pay a membership fee and submit to vetting through the platform). It's a really fun way to get a "free" trip complete with animal friends, and as dog parents, it's WAY cheaper and MUCH less stressful for our pet than boarding.
PlumGuide: PlumGuide is like, the best of the best of short-term vacation rentals. You know how you can spend ages browsing sub-par listings trying to find the perfect place to stay for a birthday getaway or special trip? That's what PlumGuide is PERFECT for. They have high expectations and standards and are really picky about the places on their site, so you'll only find the top 3% of vacation rentals in each destination, all thoroughly vetted (so the hard work is done for you)! Because of the high-quality requirements, their listings tend to be on the pricier end, so this is our go-to when we're willing to pay more to have a really incredible place to stay, like special occasions or romantic getaways.
---
Have you ever had a bad experience with Airbnb? Or have you had nothing but excellent experiences with AirBnB? Tell us your story in the comments!
---
Did we make you laugh?
Or maybe just laugh AT us? (Either way, we'll take it.) Subscribe! We'll send you our most ridiculous travel stories & semi-regular monthly(ish) newsletters.